ObjectBox for IoT
The fastest IoT edge database solution for small devices.

Why are companies moving to edge computing?
  
Real-time response

Improved security

Offline capability

High cloud costs

Broadband limitations
Objectbox is an embedded database and synchronization solution designed uniquely for IoT
and mobile. It's small, fast, and easy to use. Plus, it's NoSQL, ACID compliant, and handles
huge amounts of data without issue. We bring edge computing to the edge.
We bring data to the edge.
"If ObjectBox sync would have existed when we built a large IoT solution for one of our customers where we needed to synchronize between gateways, I would definitively have bought it. It was a huge pain and time factor.
Dom Guinard – CEO, Evrythng

Easy to Implement
We are committed to providing you with the easiest APIs for you to keep your code short and maintainable.
Lightning Fast
ObjectBox IoT Database is at least 10 times faster than SQLite, allowing real-time processing.
Extremely Lightweight
We know that on-device storage can be expensive. ObjectBox IoT Database weights less than 1MB.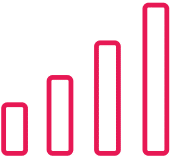 Built to Scale
ObjectBox is fast and easy to use regardless of the amount of data you are using.
C/C++ Our database core is C++ and comes with a plain C binding
SPEED 100,000+ objects per second for typical CRUD operations on low end hardware e.g. ARM32 (1M+ on current x64)
LOW FOOTPRINT Library is smaller than 1MB
SELF-CONTAINED No dependecies (just libc(++))
ACID COMPLIANT Full transaction support
FLEXIBLE FILTER Filter by time, sensor data, names, or any data point you want
EMBEDDED No database to maintain, just embed ObjectBox in your app
BLOBs Store binary data efficently
AUTOMATIC SCHEMA MIGRATION No hassle, no update scripts
CROSS PLATFORM Linux, Windows, Mac/iOS, Android, Raspberry Pi, etc.
Are you ready to start building your edge IoT project with ObjectBox? Get stared with our C API on GitHub.
Get Started Now
Need advice on an IoT project? 
Get in touch with the team at ObjectBox, and we will contact you in under 48 hours to discuss our edge database.