the easy object-oriented database
for small devices
1

2

3

4

5

6

7

8

9

10

11

12

13

14

15

16

17

18

@

Entity

public

class

Person

{

// MyObjectBox is generated by ObjectBox

BoxStore

boxStore

=

MyObjectBox

.

builder

(

)

.

androidContext

(

YourApp

.

this

)

.

build

(

)

;

Box

<

Person

>

box

=

boxStore

.

boxFor

(

Person

.

class

)

;

Person

person

=

new

Person

(

"Joe"

,

"Green"

)

;

long

id

=

box

.

put

(

person

)

;

// Create

Person

person

=

box

.

get

(

id

)

;

// Read

person

.

setLastName

(

"Black"

)

;

box

.

put

(

person

)

;

// Update

box

.

remove

(

person

)

;

// Delete
// Person_ is a class generated by ObjectBox

Query

query

=

box

.

query

(

)

.

equal

(

Person_

.

firstName

,

"Joe"

)

.

startsWith

(

Person_

.

lastName

,

"B"

)

.

build

(

)

;

List

persons

=

query

.

find

(

)

;
Playlist

playlist

=

new

Playlist

(

"Black Album"

)

;

playlist

.

songs

.

add

(

new

Song

(

"Enter Sandman"

)

;

playlist

.

songs

.

add

(

new

Song

(

"Sad but True"

)

;
@

Entity

data

class

Person

(

val

box

=

boxStore

.

boxFor

<

Person

>

(

)

box

.

put

(

Person

(

0

,

"Joe"

,

"Green"

)

)
Less code is better code.
There's more than an edge to it
Strong support of relations, so you don't have to worry about them.
We support Java Rx and Kotlin to allow you to develop faster.
Much faster than SQLite, so you can develop faster apps.
No magic here, pass objects from the DB around threads. No "live" model – objects are just objects. No SQL.
ObjectBox also runs on the desktop. Get immediate feedback from plain unit tests without lengthy devices turn-arounds.
No manual schema integrations: Your classes are your schema. Changes are transparent.
No SQL under the hood – Simply faster
Please check our extensive Open Source benchmarking app on GitHub. We want our benchmarks to be fair.
With ObjectBox we enable app developers to devote their valuable time to what makes their apps stand
out and not on s
toring and retrieving data.
ObjectBox is designed for mobile. It is an object-oriented embedded database and a full alternative for SQLite. ObjectBox is incidentally also well-suited for IoT.
ObjectBox is optimized for performance and designed to save app developers from dealing with SQL. We think, the resulting performance advantages are rather impressive and invite you to try it for yourself.
With ObjectBox, we are bringing technology from NoSQL databases to mobile. ObjectBox is a fully transactional database satisfying ACID properties. It is also truly object-oriented: POJOs are POJOs, no hidden magic here.
Try it and make your apps run faster.
It's easy. ObjectBox is available as a Maven dependency.
Get started:
Finally, as we strongly believe in open source and have contributed to open source for many years, we will be gradually releasing some of the source code to the ObjectBox GitHub repo.
CRUD faster.
We are "very lean". A team of two, but a growing base of truly amazing supporters.
Markus Junginger
Co-Founder and CTO
I started coding for mobile long before Android and iOS were born, but jumped right on Android when the first SDK was released. Doing apps for over a decade now, I saw the need for a speedy object-oriented data solution. I am currently CTO and co-founder of ObjectBox where I spend as much time as possible coding – so far responsible for almost all its code. When I'm not coding, I enjoy time with my family, especially my little daughter.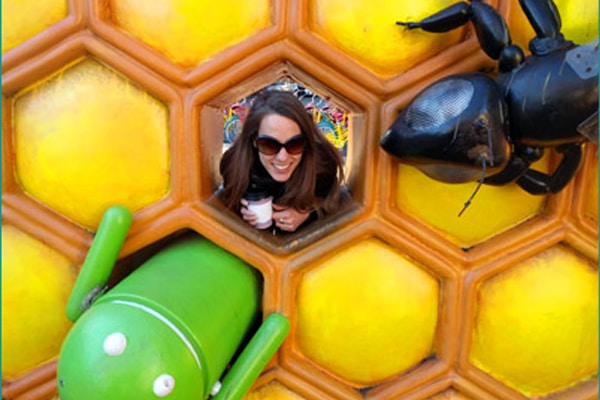 Dr. Vivien Dollinger
Co-Founder and CEO
I spent the last decade scaling and leading teams in the mobile and games industry.
Currently, I am fully dedicated to giving Markus as much time for coding as possible while dealing with the business side of ObjectBox and slowly growing it. 
Apart from work, I enjoy spending time with my daughter with whom I share the love of play and games, like theater play, role play, board games, digital games.
Thank you for starring us
– we don't like bragging, but we don't mind sharing the community love we received –
Decentralization
Data should be where it is genuinely used.
Simplicity
Developing apps should be as easy as possible, not easier.
Resourcefulness
Wasting resources is not cool, being superfast is.